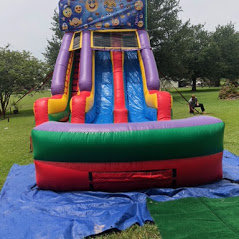 Emoji 18' Double Lane Water Slide
Setup Area: 27 x 19'6 x 18




Emoji 18' Double Lane Water Slide
Looking for a theme that's eye-catching, popular, and versatile? Then this emoji-themed inflatable may be just what you're looking for! Various emojis are portrayed amidst confetti and party favors over a blue background that'll match any decor.
This impressive double lane water slide is a dual water slide guaranteed to add tons of excitement and acceleration to any outdoor event. Great for promoting friendly competition or group challenges, kids can climb together up the left side climb, and then choose a left- or right-sided slide, for a fast-track ride to the cushioned bottom with a safety stop. Hooded safety on top makes sure riders slide down properly. The bright and colorful red-purple-yellow-green and blue fits into any décor, and is sure to attract guests for a thrill-filled day, and keep the kids sliding!
(ENTRANCE TO SET UP AREA MUST BE AT LEAST 3 FEET WIDE).
THIS UNIT CANNOT BE USED WITH WATER.