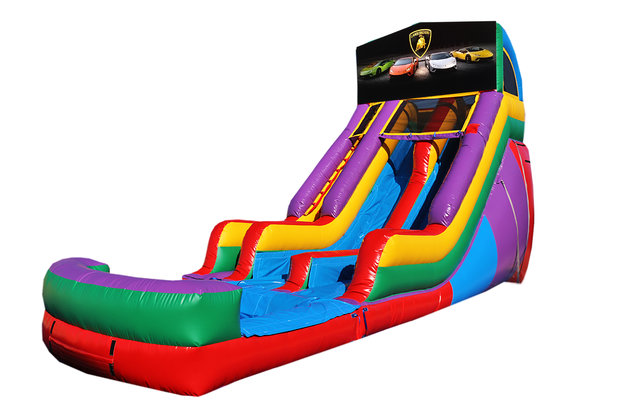 Lamborghini 18' Double Lane Water Slide
Setup Area: 27 x 19'6 x 18




Lamborghini 18' Double Lane Water Slide
The simplicity of this background highlights the beauty of these vehicles. The Lamborghini emblem is front and center, so there is no mistaking what it is that your eyes are gazing upon. Perfect for the luxury vehicle enthusiast.

This impressive double lane water slide is a dual water slide guaranteed to add tons of excitement and acceleration to any outdoor event. Great for promoting friendly competition or group challenges, kids can climb together up the left side climb, and then choose a left- or right-sided slide, for a fast-track ride to the cushioned bottom with a safety stop. Hooded safety on top makes sure riders slide down properly. The bright and colorful red-purple-yellow-green and blue fits into any décor, and is sure to attract guest for a thrill-filling day, and keep the kids sliding!
(ENTRANCE TO SET UP AREA MUST BE AT LEAST 3 FEET WIDE).