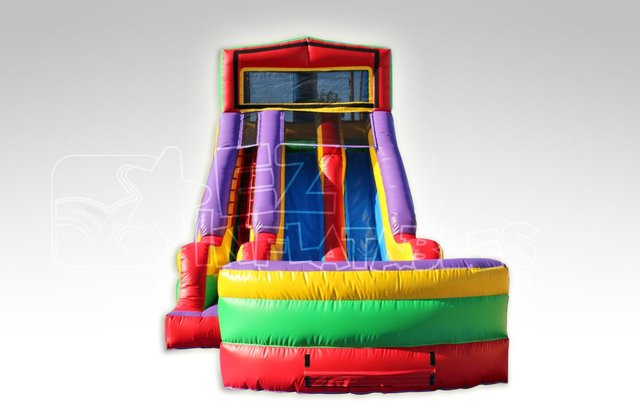 Cars 18' Double Lane Water Slide
Setup Area: 27 x 19'6 x 18




Cars 18 Foot Double Lane Water Slide
(ENTRANCE TO SET UP AREA MUST BE AT LEAST 3 FEET WIDE).
This impressive double lane water slide is a dual water slide guaranteed to add tons of excitement and acceleration to any outdoor event. Great for promoting friendly competition or group challenges, kids can climb together up the left side climb, and then choose a left- or right-sided slick slide, for a fast-track ride to the pool landing with a safety stop. Hooded safety on top makes sure riders slide down properly. The bright and colorful red-purple-yellow-green an
d blue
fits into any décor, sure to attract guest for a thrill-filling day, and keep the kids sliding!
Rev up your engines and take a ride with all of your favorite characters from Disney Pixar's Cars! Mater, Lightning McQueen, and Sally Carrera are at the forefront of this themed 18' water slide, posed in front of that classic desert scenery that we all know and love. Get your kicks in this Cars 18' Double Lane Water Slide!